At All About the Hound we're full service—for your dog & for you
Convenience and peace of mind for dedicated dog parents. And great results, too!
How can we serve you & your hound?
Dog & Puppy Training Classes
For Wairarapa dog parents looking for real training results, our credentialed professional dog trainer leads the very best (and most fun) classes available. Learn more.
Private Dog Training
For busy Wairarapa dog parents, we bring the training to you. Super busy? Our KPA-certified dog trainer will even train your dog for you! Learn more.
Dog Grooming
For Wairarapa dog parents wanting both the perfect groom and a stress-free grooming experience, our professional dog groomer delivers both. Learn more.
Groomabilities Training
For the most dedicated Wairarapa dog parents, we offer our most unique program, designed to teach your dog to love being groomed here and at home. Learn more.
Why trust your hound to All About the Hound?
We hold the highest credentials
Our trainer is the only Karen Pryor Academy Certified Training Partner in the Wairarapa, in addition to holding her Certificate III in Dog Behaviour & Training. We hold equally advanced grooming certifications. Why? Because we really care—about results, about your hound, and about you.
We get results
We take pride in knowing what we're doing and how to do it really, really well. Whether you come to us for dog training, grooming, or dog daycare, you have expectations and we aim to meet and, wherever possible, exceed them.
We do it all
Our clients are busy career and family folks, so we like to make enjoying and caring for your dog as easy as possible. That means one-stop for training, grooming, and daycare. Plus we look for every opportunity to get things done for you—even your dog training!
We make getting results fun
We are fully force-free in all of our dog training, daycare, and grooming activities. We want your dog to have a great time. We also want you to feel great about the results we deliver, whether that's a wonderfully-behaved dog or a perfectly-coifed one.
Learn more about our All About the Hound philosophy.
Meet our owner, trainer, & groomer, April Williams
Hello, and welcome!
It is my true joy to serve the discerning dog parents of the Wairarapa. I know what it is to love a dog as a family member, to want the best for her, and to want to enjoy the best from her. That's why I do what I do, and why I've sought the highest education and credentials in both the dog training and grooming worlds, so that I may do it as well as it can be done. So welcome, and I hope we have the opportunity to support you and your hound!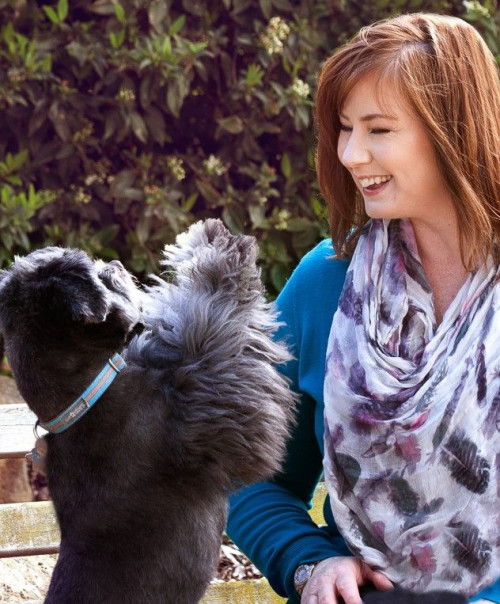 A message from our mascot, Wallie
Everybody wants a Wallie!
A poem by Wallie

Wallie is the perfect dog; he has it all for sure,
He is the kind of dog that is the envy of us all.
He is so nicely mannered, is fun and jolly too,
He's the dog you want hanging out with your crew.
His recall is outstanding; he comes every time you say,
There is no shouting out his name and then waiting there all day.
He's attended all the classes at AllAbouttheHound,
They are fun and engaging and scientifically sound.
The classes are perfect for all dogs learning to behave,
Especially for the puppies without guidance may misbehave,
Wallie always looks the part with his beautiful, pampered trim,
There is no need to look so grim; your dog too could look just like him.
AllAbouttheHound can cover all your doggie needs,
Wallie is the example of what you can hope to achieve.