Dog Grooming for the Wairarapa
Our dog grooming is All About lovely grooms and happy, relaxed dogs

" Grooming doesn't have to be stressful! Really! "
Our specialised approach to dog grooming
Internationally certified & accredited dog groomer & stylist
Not all groomers are alike, and none in the Wairarapa have our credentials. Our groomer holds two certifications and certificates covering not just grooms but dog psychology as well.
No-rush grooming for your dog's comfort
There is absolutely no reason grooming should be stressful for dogs. We will never rush your dog's groom, preferring to take our time to get it right while keeping your dog happy.
Up-front assessments & estimates to avoid surprises
We believe in customers for life, so we're always up front about costs and what we think is achievable given the condition of your dog's coat.
" See? What did I say? Grooming doesn't have to be stressful! "
Chemical-free shampoos & conditioners
We choose to use products free of chemicals, paraben, and sulfate (SLS & SLES free). We value your dog's health, yours, our own, and the health of our environment.
Beautiful grooms, including traditional breed clips
Our goal is to get your dog looking his or her absolute best. We're widely experienced with traditional breed clips, as well as in extreme de-matting. We'll make your dog shine!
You are always welcome in our salon
Drop in for a visit any time. Let us know your questions. You're welcome to stay with your dog during her groom or while she waits, too!
---
What you can expect:
1. We will prioritize your dog's physical and psychological comfort
Too often groomers place emphasis on speed, because faster means more money. It's stressful for the dogs, the groomer, and the clients. Not so at All About the Hound. Here, your dog's comfort always comes first.
We know that investing time up front to help your dog learn to love being groomed means time saved later—and a much more enjoyable experience for all.
Our groomer's specialised training and certification as both a dog groomer and dog trainer give her the skills to teach any dog that grooming can actually be fun.
Imagine the peace of mind when your dog literally drags you into our salon for her appointment!
2. We will provide beautiful (or handsome!) results
Don't worry. It may take us some time in the beginning, particularly if your dog has had stressful grooming experiences elsewhere, but by the time we're done your dog will be looking her best!
How our grooming service works:
STEP 1: Groom Assessment
Our groomer will assess your dog's coat and share honest, realistic outcomes so you know what to expect before the groom begins, including a cost estimate. We hope once you experience our grooming service you'll stay with us over your dog's lifetime, so we want to begin our new relationship right!
STEP 2: Grooming at Your Dog's Pace
Your dog's first groom with us may take longer than you're used to. We're serious about investing in a positive relationship with your dog. We want her to LOVE coming to see us. So we'll take things slow, moving at her pace. We'll get to know her and let her get to know us. If it takes all day the first time, so be it.
It'll be worth it, for your dog's peace of mind, for yours (you should never have to feel guilty about dropping your dog at the groomer's!), and because as your dog comes to trust us, we'll be able to speed up—saving lots of time over the years to come.
STEP 3: Gorgeous Results
Whether you're after a traditional breed clip (we've done 'em all!), a short cut for summer, or just a clean, de-matted pooch, we'll have your dog looking his or her best.
Our dog grooming rates, policies, & FAQ
Can you really convince my dog to enjoy being groomed?
Yes, absolutely. If she's had bad grooming experiences in the past it may take a bit longer, but we'll get her there. And we can speed things up with our Groomabilities program, too.
Have you groomed my breed of dog before?
We're betting we have! Our groomer is professionally qualified and trained in all manner of traditional breed clips, including Airedales, West Highland Terriers, Schnauzers, Cairn Terriers, Brussels Griffons, Poodles, and many more. Don't see your breed here? Ask us!
How often should I have my dog groomed?
That depends on your dog's coat, activities, and how often you bathe and brush at home. We'll make a recommendation, and also share tips for in between visits.
Can you come to my home?
We don't do home grooms, but if you live in Masterton we can arrange for pick-up and drop-off for a small surcharge.
Ready for a happy, beautifully groomed dog?
Schedule today!
---
Meet our groomer, April Williams
Are you surprised?
Most of my grooming clients are initially surprised to learn how much variation there is among groomers' qualifications and training. As a groomer, I want your dog to look her best, so I've sought the highest training and certifications available for that part of the work. As a dog trainer, I also want your dog to feel her best, so I've also pursued training and certification in handling procedures, dog psychology and behaviour, and canine health and well-being.
To me, it's not enough that your dog have a beautiful groom. I also want her to love the process. I want you to feel great when you drop her off with me and when you pick her up. And I want to feel good about the physical and emotional care I provide your dog while I'm busy making her look awesome.
Learn more about April and her professional dog grooming credentials.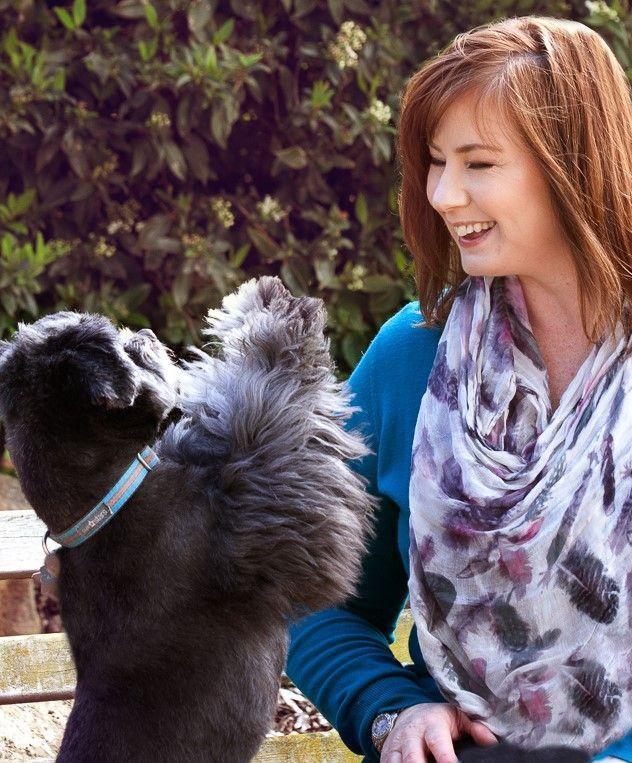 A message from our mascot, Wallie
Grooming Shouldn't Be Scary
A poem by Wallie

Grooming shouldn't be stressful or scary,
not even if I'm overly hairy
Or if there's cause to remove massive mats
'cause dogs don't do that ourselves like cats
So I like grooming at All About the Hound
because their grooming practices are safe and sound
With April there's no cause for rush,
not with bathing, cutting, or the brush
She always takes grooming at my speed,
She says my comfort is always guaranteed.