All About All About the Hound
The All About the Hound Philosophy
A commitment to the best education & training available
Our owner, trainer, and groomer holds the best certifications in her fields, believing that the work of training and caring for dogs is too important to leave to anything less. Loving dogs simply isn't enough. To be a true dog professional one must both love dogs and know them.
A commitment to the best dog care possible
For us, this means using only the most scientifically-sound, positive-reinforcement based training methods in all of our training classes and private training programmes, as well as during all grooming sessions and throughout every daycare day. Your dog should enjoy every minute with us, and you should enjoy the peace of mind that comes with knowing that will always be the case.
A commitment to the best customer service possible
We believe in taking just as good of care of our two-legged clients as we do of our four-legged ones. That means honest, ethical business practices and building real relationships. That's why we keep everything we do small, from tiny group training classes, to our limited-space boutique-style daycare, through to our unrushed approach to grooming.
We also strive to make all our services as convenient as possible for our busy clients, providing flexible hours, lots of programme options, and even offering to train your dog for you!
---
All About April Williams, owner, trainer, groomer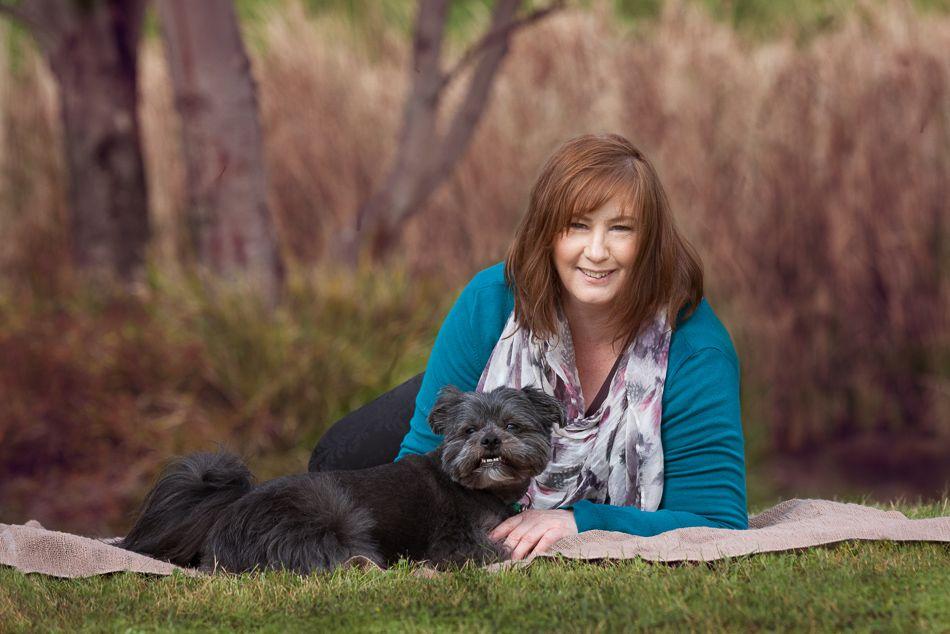 April's Training Credentials: KPA CTP, Certificate III
April is the only Karen Pryor Academy Certified Training Partner in the Wairarapa, and was among the first graduates from the Karen Pryor Academy Dog Trainer Professional Program in Australia. The Karen Pryor Academy is internationally recognized as one of the most rigorous, intensive programs available to professional dog trainers.
Additionally, April holds her Certificate III in Dog Behaviour & Training, and is a member of both the Association of Professional Dog Trainers in the U.S. and the Association of Pet Dog Trainers in Australia.
April's Grooming Credentials: IPGCSP, IPGCPG
April is an internationally Certified Salon Professional (IPGCSP), and internationally Certified Professional Groomer (IPGCPG), and holds Professional Dog Grooming Certificates from both the Dog Diversity Grooming School and the Sunraysia Institute of TAFE.
She is also a member of International Professional Groomers, Inc.
April's Dogs: Archie, Millie, & Precious
Let's just say they keep April busy and on her toes! Archie's the bold, outgoing one. The travel companion who once launched himself into the river Thames, leaving himself covered head-to-tail in mud, and April head-to-foot. (Good thing she's a professional groomer!)
Millie's the social butterfly. She loves to make new people friends. (Dogs, too, though she likes to take that slowly.) Millie's real claim to fame, though, is the greatest recall April's ever seen: Think furry little bullet train!
Precious is April's project child. A rescue with a rough start in life, Precious and April have worked diligently together to overcome Precious' fears and help her playful, happy nature shine through.
All About Wallie, mascot and canine poet laureate
Wallie is the (one dimensional) embodiment of the perfect dog. He loves everyone, human and canine. (He probably even likes cats.) He's easy-going, affable, unflappable. Nothing scares him. Nothing even rattles him. He's a friendly, fun, cool cucumber of a dog. Wallie is always ready for anything (and insists of being the center of everything). He is, in short, the dog we all strive for.
Wallie is also something of a writer, despite his lack of opposable thumbs. You'll find his rhymes throughout our site. (He was quite adamant, and we had to agree, that a dog's voice be represented on a website all about dog-related services.)
---
Ready for dog services that are All About you and your hound?
We'd love to make life a little easier with our training, daycare, and grooming services.
Tell us how we can help!